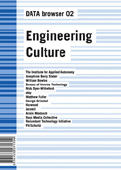 . book
edited by Geoff Cox and Joasia Krysa
Engineering Culture: on 'the Author as (Digital) Producer'
<book> Autonomedia
ISBN 1570271704
The immaterial production does not only have exquisitely political (precariousness, mobility, real time...), or aesthetic (manipulability, coding, de-location...) implications. It contains the conflict generated by the capitalism, that struggles for applying to immaterial goods the old, consolidated production schemes for physical goods. The opposition to this process it's not only a question of refusing it, but it is especially achieved intervening in the capital dynamics, identifying the many weak points that are still attackable. The projects that reverse engineering the sweating processes, building freeing tools, or tools that conflicts with the capital logics are generating a quick outcry in the network nodes. The social consequences are proportional to these tool's engineering, and how they are able to fit in the usual workings, causing different results in the whole production chain. Here 'engineering' means production awareness and direct intervention in the project logic. This approach's effects in determining reality can be read between the lines in this book's essays. They describe the propulsory thrust that mutates a passive user in an active and thinking node in his own system.